Thanks 4 is Channel 4's loyalty and rewards platform, a microsite that gives viewers access to a range of exclusive prizes, premieres, competitions and offers.
Previously, all content on the site had been housed in a fun, light hearted format featuring brightly coloured decorative picture frames, backgrounds and podiums. Whilst this tongue in cheek style was perfectly suited for some content, it fell down when presenting material with a more serious subject matter. It also didn't work for Film4 imagery both tonally and practically where images would have to be squashed down in size to fit in the small picture frames.
We were asked to pitch ideas for a solution that not only addressed the issues with setting a suitable tone but allowed the content to take centre stage. Our solution was to place the images inside larger, more simplified frames and set them within a number of highly detailed photographic environments. For Film4 we placed imagery inside cinematic red frames set amongst scenes taken directly from the idents providing a subtle nod to the Film4 brand.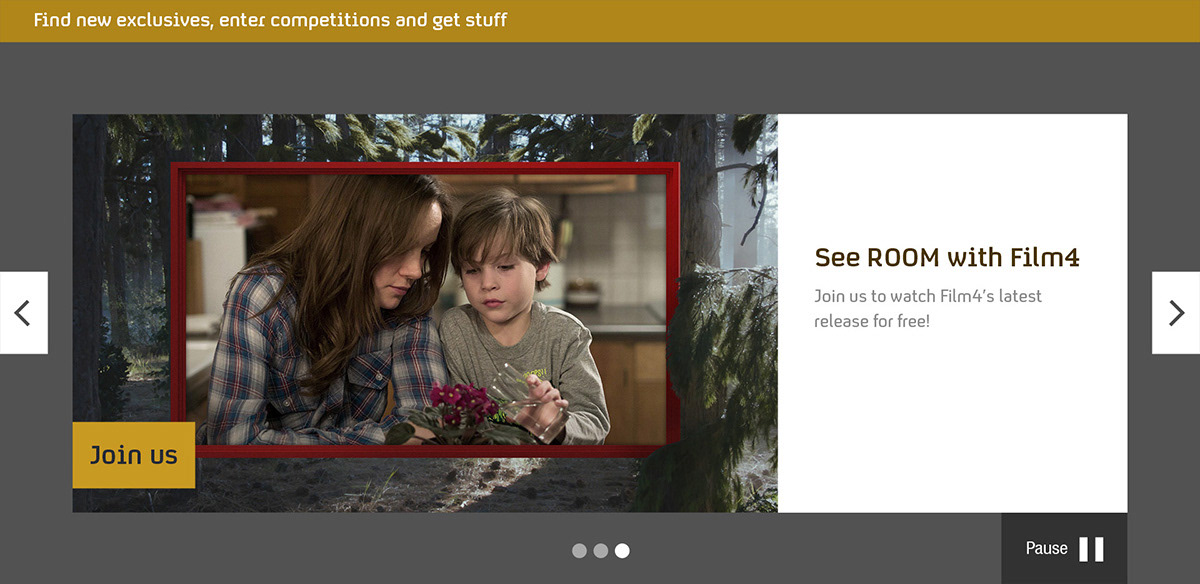 From an initial selection of over 100 environments and frames we developed each option alongside the client, gradually refining and editing them down until we arrived at our final selection. Editable Photoshop comps were then created that allowed designers at Channel 4 to simply place the imagery inside the frame as desired.